Karbonn yesterday announced three smartphones, all three will work on Android. The models will be Karbonn A9, A7, and A5. Along with these smartphones, a tablet has also been announced, Smart Tab 1. The tablet will be based on Android 4.0 Ice Cream Sandwich, while the smartphones will be backed by Android version 2.3. Other than Karbonn A5, all the other three products, Karbonn A7, A9 and Smart Tab 1, are already available for purchase. Karbonn smartphones, in a way, has changed the mobile manufacturer's outlooks, with the kind of technologies it has brought to Indian brands, the kind of advertising it has given to its products, and the affordable rates that the company launches its products as. With the launch of these three smart products, Karbonn has extended its "Karbonn Smart" family.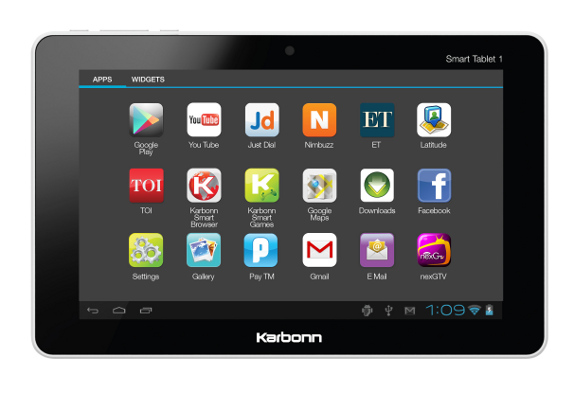 The Karbonn Smart family will have the gadgets, phones or tablets, that will be launched with nre technologies and will be quite advanced from Karbonn's uptil-now range of gadgets. Karbonn Mobiles intend to become the single store for any kind of technology-related needs of consumers. To fulfill this same aim, Karbonn Mobiles has now introduced the tablet, Karbonn Smart Tab 1, about which the company assures will bring quite a few changes in the technological scenario in India. The tab comes with Ice Cream Sandwich Android 4.0.3 OS, which would run on 1.2 GHz X-Burst processor. A 17.8 cm capacitive, 5 point touch screen, backed by 3700 mAh battery are features that would surely win hearts! Presented with WiFi, 3D gravity sensor, 3G support through USB, it would come with a 2 megapixels camera at the front, along with a few applications that would be pre-embedded, like Karbonn Smart games, Karbonn Smart Browser, Facebook, TOI, ET apps, etc.
In its new range of smartphones, Karbonn A9, Karbonn A7, Karbonn A5 have been brought out for the public. These three could be few of the most advanced mobile phones, specially if you consider the Indian brands. You name it and these Android smartphones have it. High quality camera, pre-embedded social entertains and other utility apps, ultra fast processor, dual SIM, Android version 2.3.6 Gingerbread, these new phones have all of it. It would suit best those who would like to carry one of the most technologically advanced mobiles of the date. For those who now worry about the prices, the company has placed the products at the most competitive and comfortable rates, absorbing all the worries of its consumers.